WHAT EXPLAINS MIND AND HOW IT FITS INTO THE BIG PICTURE?
Two ancient Greek philosophers formally split mind away from matter around 350 BCE in Western thought, when Plato and Aristotle distinguished between seen and unseen reality. They had two different philosophies regarding what was more important—mind or matter?
RAPHAEL'S PAINTING DEPICTS THE HISTORICAL MOMENT.
Raphael portrayed that cleaving moment in his 1510 painting, The School of Athens. Its philosophical divide created a chasm between unseen yet evident mind versus the material evidence of seen, testable matter.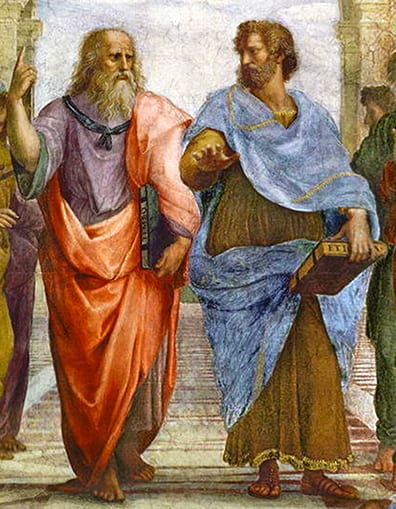 In the painting, Plato's hand points to the heavens, supporting his view that an invisible idea, form, plan, design, or code is transcendent over the actual physical universe. Plato was honoring a hidden plan that is invisibly meta—beyond our evident physical reality. He said its hidden ideal form or design is what creates reality.
But Aristotle's hand is firmly parallel with the earth, symbolizing his pragmatic emphasis on testable events that manifest in nature. Aristotle was honoring the logical, scientific principles that developed physics, biology, botany, chemistry, and zoology.
A long span of time stretched from ancient Greece to Raphael's Renaissance painting, and even more centuries stretch on up to now.
PHYSICS NOW BELONGS IN SCIENCE; METAPHYSICS BELONGS IN PHILOSOPHY.
Metaphysics is a branch of philosophy. Its prefix meta means transcendent, beyond, or more comprehensive. It's a catch-all term to describe what is beyond physics…phenomena that we have no means to test, yet we still do recognize and ponder.
HERE ARE SOME SPECIALISTS IN METAPHYSICS: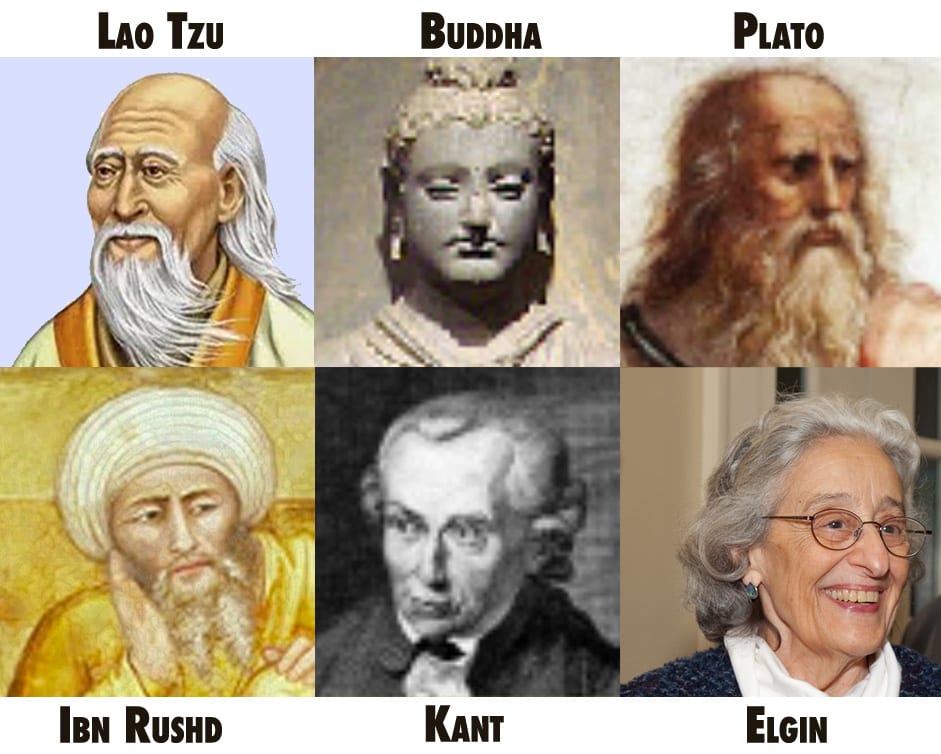 The Metaphysics branch of philosophy examines the nature of reality itself, the question of free will, first causes such as the origin of space and time (which we cannot scientifically test or even observe happening), the possibility of an immortal soul, the existence of a supreme being, and so on.
METAPHYSICS IS NOT A RELIGION OR DOGMA.
Metaphysics shows the human mind at work trying to understand the source and ongoing meaning of reality.
Metaphysics is willing to ponder what may be true beyond the known parameters of our dogmas, conceptions, and sensory limits…issues that some ascribe to the mystery of God.
World cultures have mingled and morphed so much over time that modern science even has a theory named for a goddess in Greek mythology, Gaia, who gave birth to the Earth and all life on it.
But in modern bioscience's updated version…
GAIA REFERS TO PLANET EARTH, ALIVE IN ITS TOTAL ECOSYSTEM AND BIOSPHERE.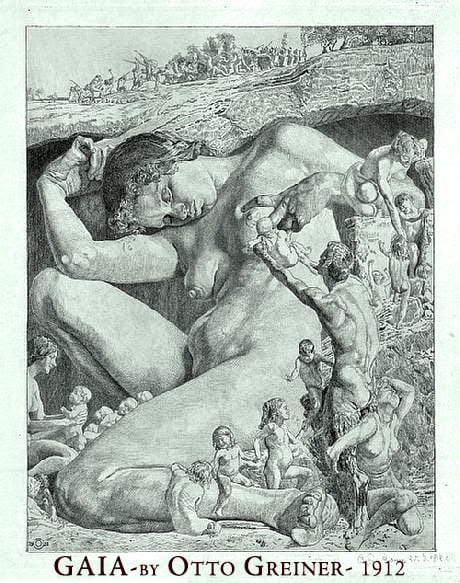 Otherwise, the concept of a god or divinity has just about completely dropped out of the hard science picture.
Why? Because no respectable scientist knows how to include any God-data that is accurate in scientific terms (meaning its data is systematic, replicable, quantifiable, and falsifiable).
OUR WORLD HAS NO SHARED STORY OF UNIVERSAL CREATION.
Some adhere to a Christian, Jewish, Islamic, or Shinto creation story. Some point to the Big Bang as the real deal. A few still proclaim Einstein's steady state theory.
But many of us just shrug off creation or God, saying it doesn't really matter…where's dinner?
Science ushered divine force out of the picture for a logical, pragmatic reason: it made us stop taking the easy way out when we try to explain how the universe began, what it is made of, how it works, and why we exist.
A pat "God did it" just isn't enough to spin the threads of data that weave the vast garments of scientific theory.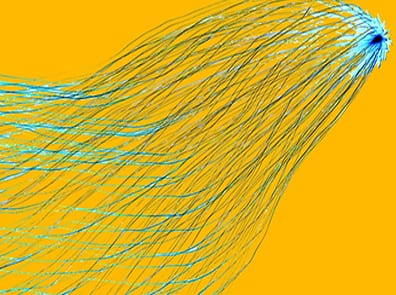 MAKING A SCIENTIFIC THEORY FIT THE SHAPE OF NATURE TAKES A LOT OF WORK.
Science is more than just a guess or idea. Someone makes a prediction that turns out to be correct when tested in experimental ways. Researchers weave strands of data as tightly together as possible into an ongoing story about reality that is as nearly true as possible.
In doing so, they throw various theories over the whole awkward shape of reality, draped on it like tailored garments.
Yet we never get to see reality whole and naked. Aspects of it keep shape-shifting on us continually, depending on where we stand to view it in our own time, place, and mindset.
THE UNIVERSE ITSELF IS ALIVE AND FRACTAL.
All events are fractal, and they morph along the upper bubble's timeline and the lower bubble's spaceline. Thus in this upper bubble, we inhabit, the natural world, and its human civilizations morph or evolve along our own bubble's timeline.
We seek to understand the details of events in reality's flow and act consciously to affect its direction. For instance…
SCIENCE HAS UPDATED ITSELF AGAIN AND AGAIN.
Unlike politics or religion, science has the privilege and duty to revise itself to include new information as it is discovered.
Astrology became astronomy. Alchemy became chemistry. Phrenology, the charting of bumps on the skull, became mapping the brain itself. Scientists helped that happen.
BORN IN THE 16TH CENTURY…
…Johannes Kepler said the solar system runs like a mechanical clock. Society agreed.
Many European cities sported an astronomical clock on the Town Hall tower.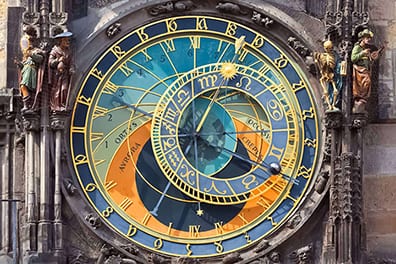 Society tried to set itself to do things like clockwork. Adopting a mechanistic mindset fostered more schedules, deadlines, bookkeeping, reports, curfews, and all sorts of newfangled regulatory functions.
DURING THE 17TH CENTURY…
Rene Descartes declared that mind and matter are separate and mutually exclusive.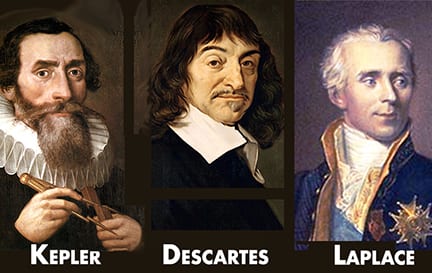 Christianity soon agreed. Why? When the divine right of kings waned, the church lost much power via influencing royalty. Descartes's division between mind and matter sanctified an invisible mental realm where the church could still reign supreme.
But by declaring mind to be separate from matter, now religion faced new challenges.
Closer scrutiny of the material realm began to foster an objective science that focused on the mechanics of things that work in tangible, useful, profitable ways.
DURING THE 18TH CENTURY…
Pierre-Simon Laplace took Kepler's clockwork idea even further. He added a "mechanical demon" that controlled planets in the solar system without any need for God's guiding hand.
Over more centuries, the open rift between mind and matter increased into a chasm. It reinforced a widening estrangement between material and spiritual values.
BY THE 21ST CENTURY…
…material and spiritual values have morphed so much that this Steampunk Mechanical Demon Mask appeared in 2020 on the Walmart website.
In effect, Laplace's mechanical demon has morphed into a mask for Halloween…which itself originated over 2000 years ago in a Celtic Samhain festival…which was then absorbed into Christianity as a religious celebration of All Hallows' Eve…which morphed into Halloween.
These events have fractal patterning that morphed along the upper bubble's timeline.
To many, the struggle between material and spiritual values has become an either/or proposition. Honoring one side may imply that you're losing your grip on the other.
This trend has gone on until by now, our modern materialistic culture has just about stripped the soul out of the human machine, and the brain inside it is called wetware.
Many do not even quite admit that we are organic anymore. Some of us hew our bodies to schedules, stresses, and expectations more appropriate for a junk-food-propelled, titanium robot.
IN THIS MODERN SCIENTIFIC AGE, WOULDN'T IT BE IRONIC TO FIND…
…that the only way we can unify gravitation with the other three forces…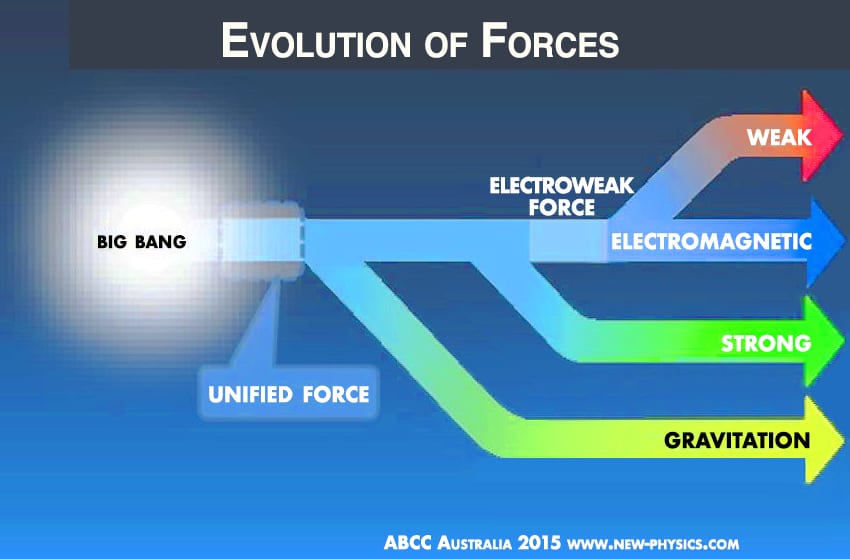 …requires that we also reunite matter with mind, even body with soul?
Wouldn't it be a seismic jolt to discover that gravitation can only be explained by stretching our viewpoint wide enough to include the evolving, universal mind in the living, universal body?
Wouldn't it be extraordinary to realize that your personal mind is a facet of the universal mind? That your personal body is a fractal pattern inside the universal body?
Wouldn't it be amazing to recognize that your mental projections about reality are a fractal variant on the universe's physical projection of space, time, matter, and energy, with all of it making our holographic Double Bubble universe?
Wouldn't it be shocking to understand that our universe was generated by a foundational master code? That this master code also acted as a template for our own lesser fractal variant, the genetic code?
Wouldn't it be stunning to discover that a rural tribe in China from thousands of years ago handed down to us a mathematical shorthand for the master code that is keyed to the universal mind in the universal body?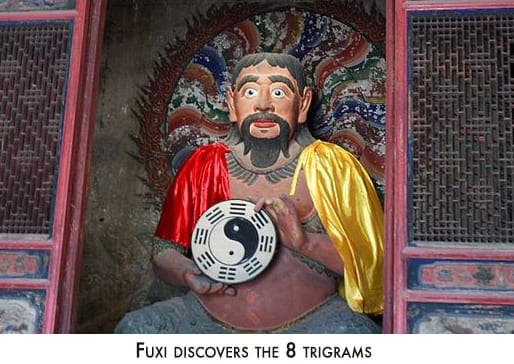 The Fuxi Temple in Tianshi has a clay statue of China's legendary first emperor, Fuxi…in changeable silk robes! Fuxi is offering to humanity the I Ching's 8 trigrams, said to shorthand the 8 fundamental principles of reality.
Wouldn't it be stupefying to realize that ancient I Ching hexagrams can succinctly encode the generation of spacetime's dimensions and the propagation of mattergy's strings?
Wouldn't it be gratifying to find that its terse math uses a notation that's far quicker, cleaner, and denser than any method our newest geometries, topologies, string theory, and M-theory have yet devised?
Wouldn't it be humbling to admit that many ancient cultures already recognized that our universe is alive? That this very old idea is called the perennial philosophy?
It is this very odd possibility that we approach in our search for the root of gravitation when we stumble upon the master code shorthanded by I Ching math and find that it holds up the universe to touch God's TOE.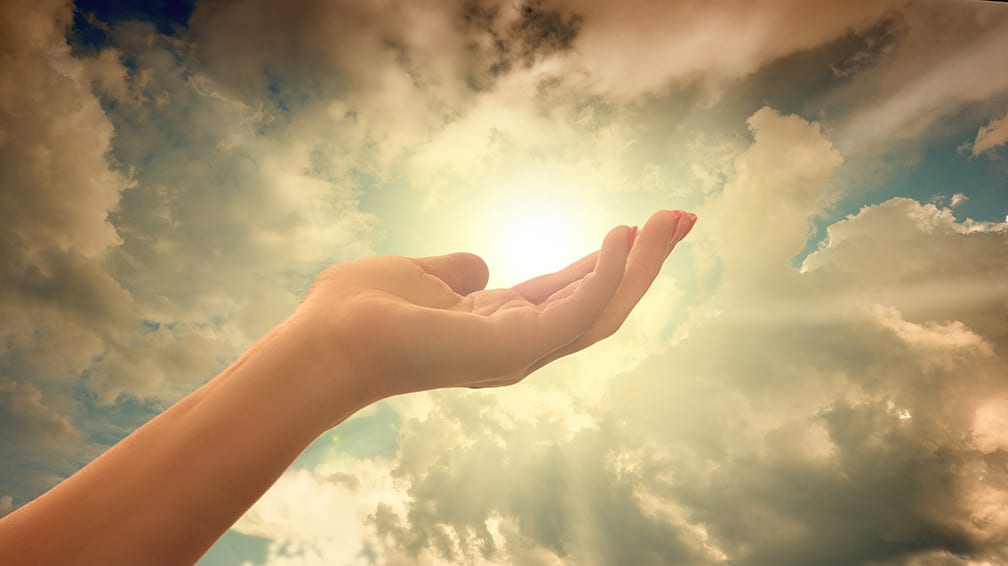 PHYSICS AND METAPHYSICS MERGE IN THIS TOE.
It attempts to define the fundamental nature of existence and reality. It seeks to identify first causes and subsequent results. This includes examining the relationship between nonexistence and existence, between mind and matter, between space and time, between cause and effect, between what is potential and what is actual.
This TOE looks for meaning in matter, and for mind in physical nature.