THIS STANDARD RNA CHART DOES NOT DO BINARY COUNTING.
In it, each alphabet letter stands for a molecule. Three letters = a 3-pack of molecules = a codon. All 64 molecular 3-packs = all 64 basic RNA codons.
And note, every T has now morphed into U. It's a main difference between DNA and RNA.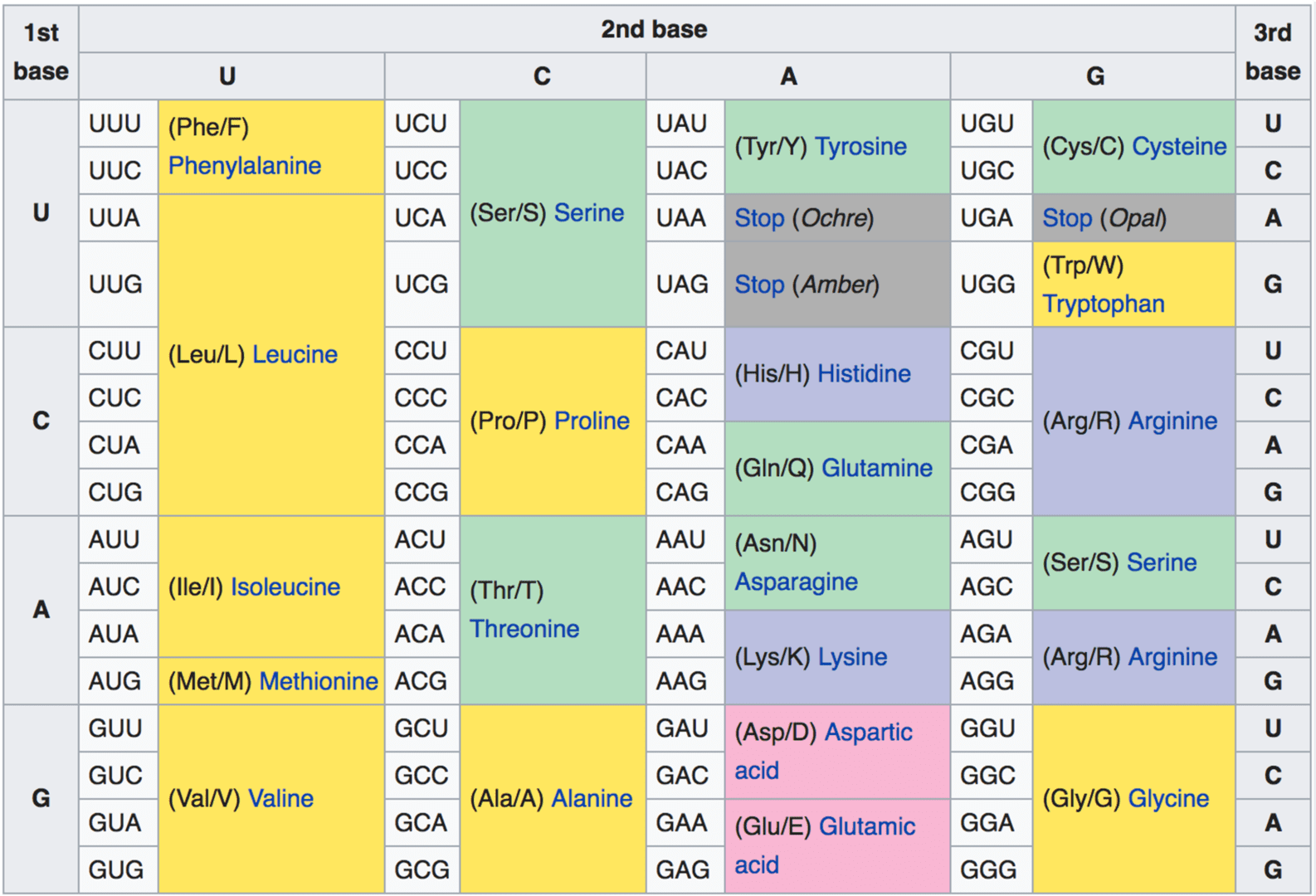 If you took biology, you probably saw some RNA charts that looked rather like this one from Wikipedia: It lists all 64 RNA basic codons and sorts them into their amino acid families… yet this chart does not tease out the underlying mathematical paradigm of linear and analog synergy.
Fortunately, you don't have to know the math. Whether you even notice your genetic code or not, your nervous system still buzzes. Your stomach still digests. The blood in your body doesn't need a flow chart to move, and your heart keeps on pumping whether you count its beats or not.
That's because the genetic code is designed to make your body as dependable and reliably failsafe as possible under the stresses of organic life.
RNA HOLDS HIDDEN ARTFUL DESIGNS.
Here is the RNA recursion chart again, but now it is coded in new symbols.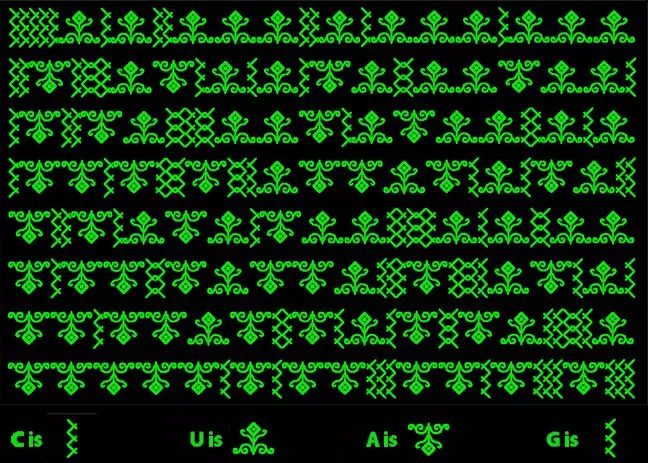 As this pattern was emerging on my computer screen, a tune popped into my head: Marvin Gaye was singing "Heard It Through the Grapevine" between my ears. Apparently this design stimulated networks of association that went musical, not logical, in my brain.
Here's the same chart yet again, but now coded in symbols that give it a whimsical, cheerful effect. It reminds me of a tiling frieze along a wall in Sweden.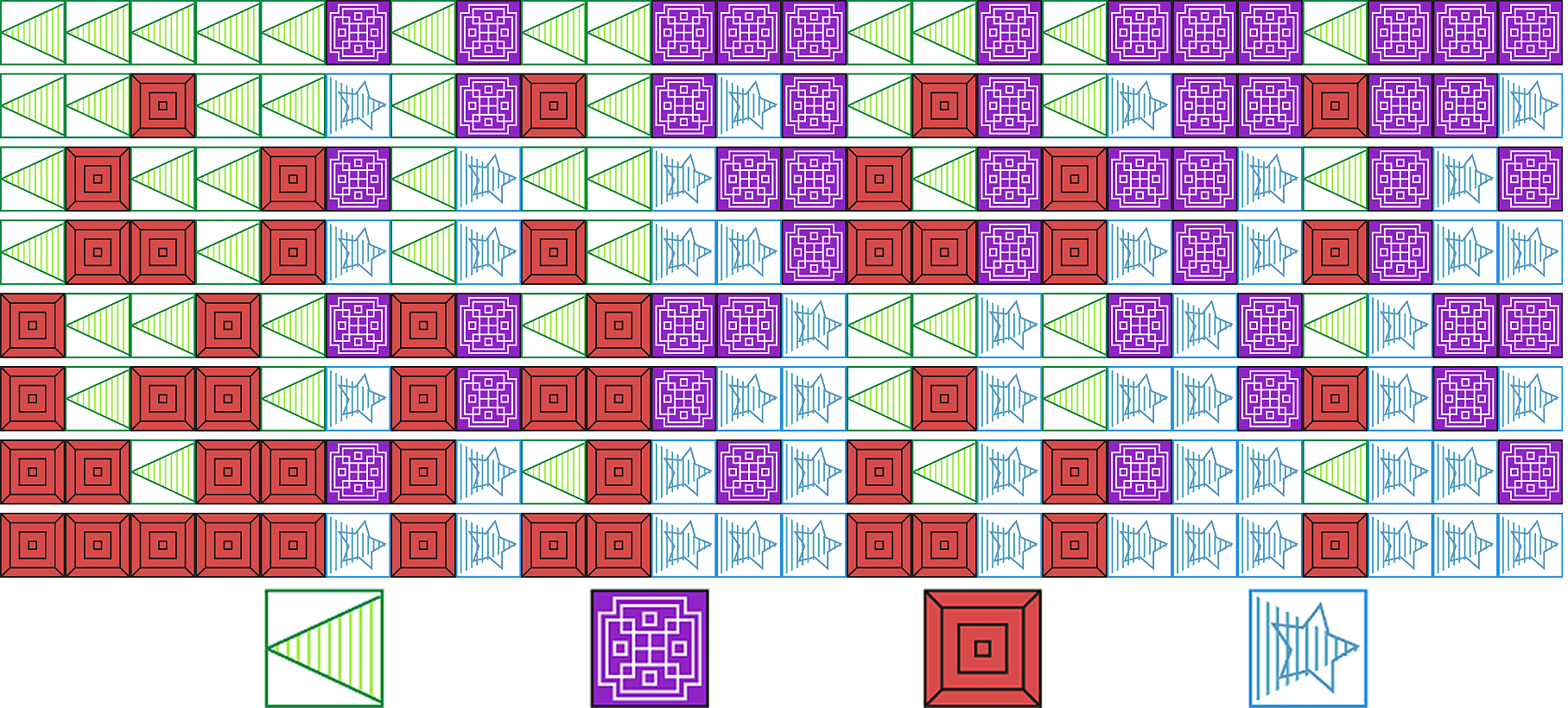 The C and G symbols are both pennants, and G's pennant even holds a star! Why, these squares might be a child's play blocks.
FOR EXAMPLE, LET'S UNPACK A CODON: UGA
In the genetic code, the strongest stop command is UGA. As the most powerful command, it orders a ribosome to stop work. UGA unpacks into Hexagram 12, Standstill.

Hexagrams are always written or read from the bottom line going upward, so that's the way to start unpacking the RNA codon and building its full-blown task hexagram. Process it letter by letter, bigram by bigram.
How well does the task of UGA—the Full Stop codon—fit with the philosophical directive of Hexagram 12, Standstill?
You be the judge.
UGA is the strongest of the three Stop commands in the genetic code. Its cease-and-desist order halts a ribosome like a period halts a sentence. In genetics, the mnemonic for UGA is "U Go Away."
Likewise, Hexagram 12, Standstill designates the most emphatic halt in the I Ching text. It indicates that progress comes to a halt; movement does not happen.
The ancient Chinese text says when the all-yang trigram of Heaven sits above the all-ying trigram of Earth, they are out of relationship. That's why its hexagram math results in the dynamic of Standstill.
From the Wilhelm/Baynes translation:
"Heaven is above, drawing farther and farther away, while the earth below sinks farther into the depths. The creative powers are not in relation. It is a time of standstill and decline.… Heaven and earth are out of communion and all things are benumbed."
Thus UGA's Stop task parallels Hexagram 12's directive.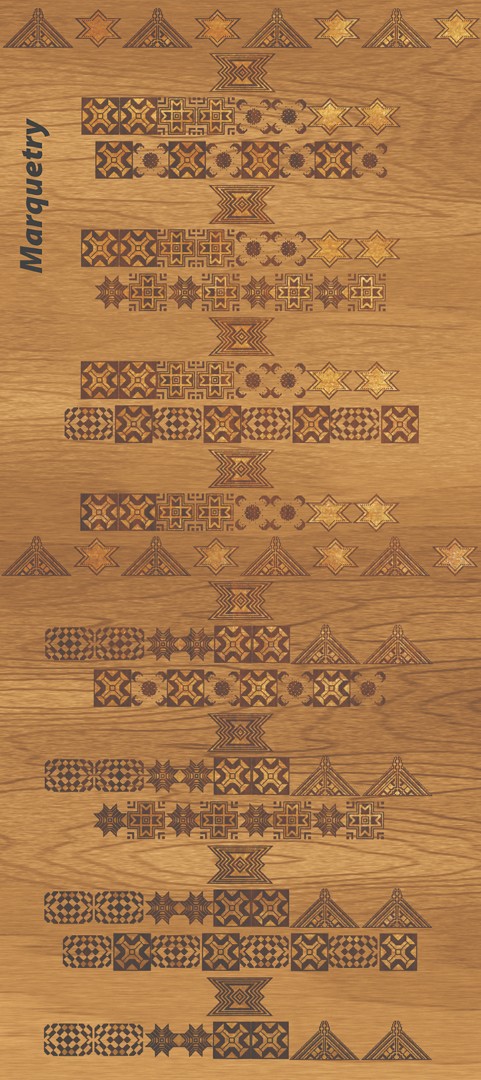 THIS CHART SHOWS HOW RNA CAN COUNT IN BINARY.
In it, each alphabet letter stands for a molecule, and all possible permutations of their molecular 3-packs = all 64 basic RNA codons. But note, the alphabet also stands for binary numbers and their digital equivalents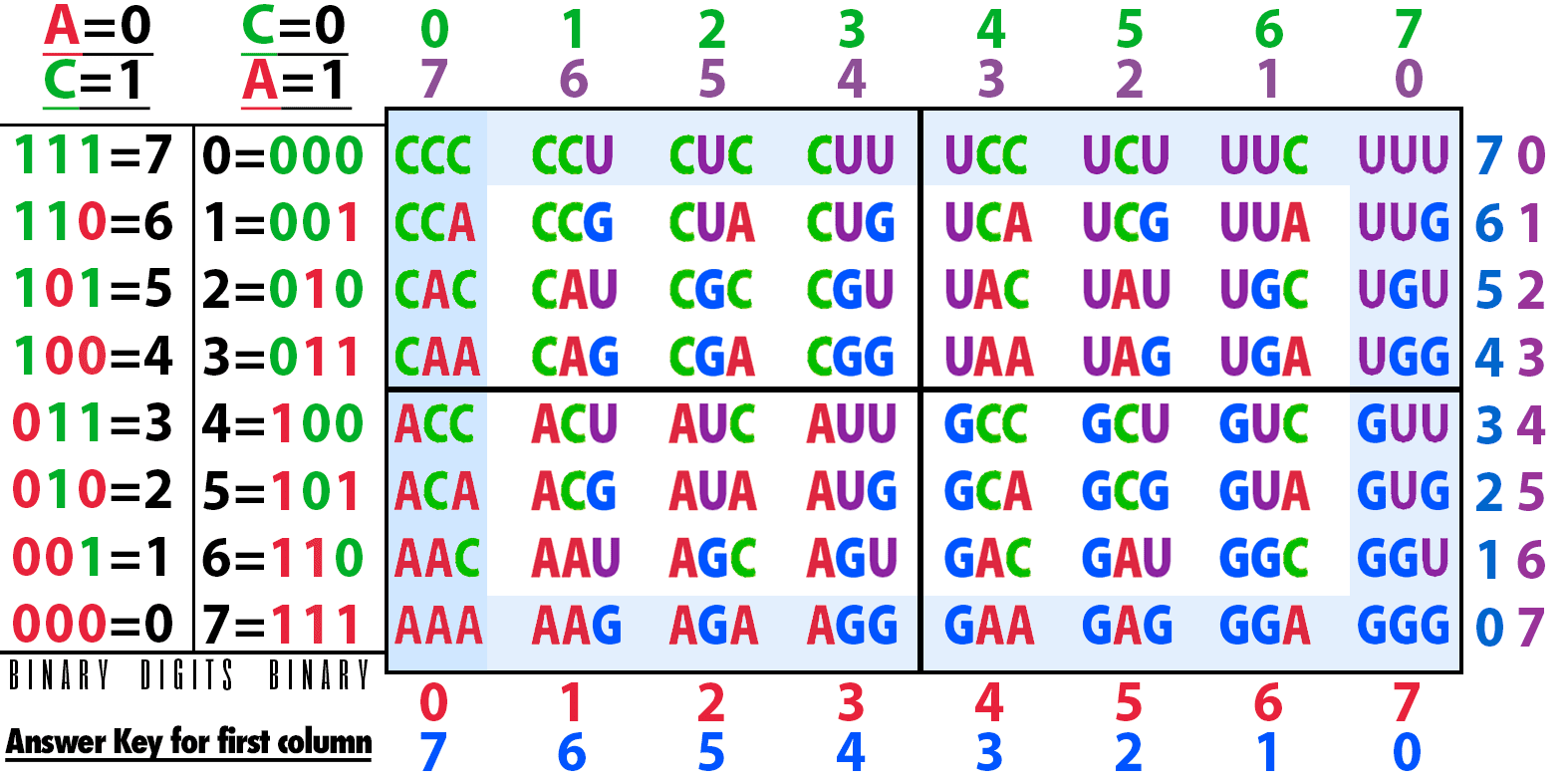 On the right side, its Answer Key decodes that darker blue first column of RNA codons into binary numbers. Digits along the other three sides also help to reveal the whole recursion process of binary counting along each edge.
Note! This fiendishly clever chart counts in binary numbers—forward and backward, upward and downward—all around the chart's edge! The result is a marvel of Escher-like recursion.
The blue band running around the alphabet's outer edge holds 28 codons. Each blue edge counts in a hidden run of binary numbers from 0 to 7—going forward or backward along the top and bottom…and also upward or downward along both sides. Thus binary counting runs recursively along each blue edge.
You might also notice that this chart of RNA 3-packs derives from the bottom half of he SHEAF design…but with each T morphed to U. To put it another way, the RNA recursion chart uses only the bottom codon/trigram from DNA's molecular 6-packs/hexagram 6-packs, with each T morphed int U.
This RNA chart also automatically sorts all 64 codons into their amino acid families…but that's not so evident yet. It will become evident further down the page.
DUE TO THE PARADIGM'S CLEVER YET SIMPLE MATH…
…the recursion chart of RNA codons can even be unpacked into full-blown RNA message hexagrams arrayed in RNA task order.
How to unpack the RNA codon 3-pack into its 6-pack equivalent…the RNA task hexagram? To unpack any lower codon/trigram on the chart of 64 DNA 6-packs = 64 Hexagram 6-packs and reveal its RNA task hexagram's dynamic message, use the key at the bottom of this recursion chart: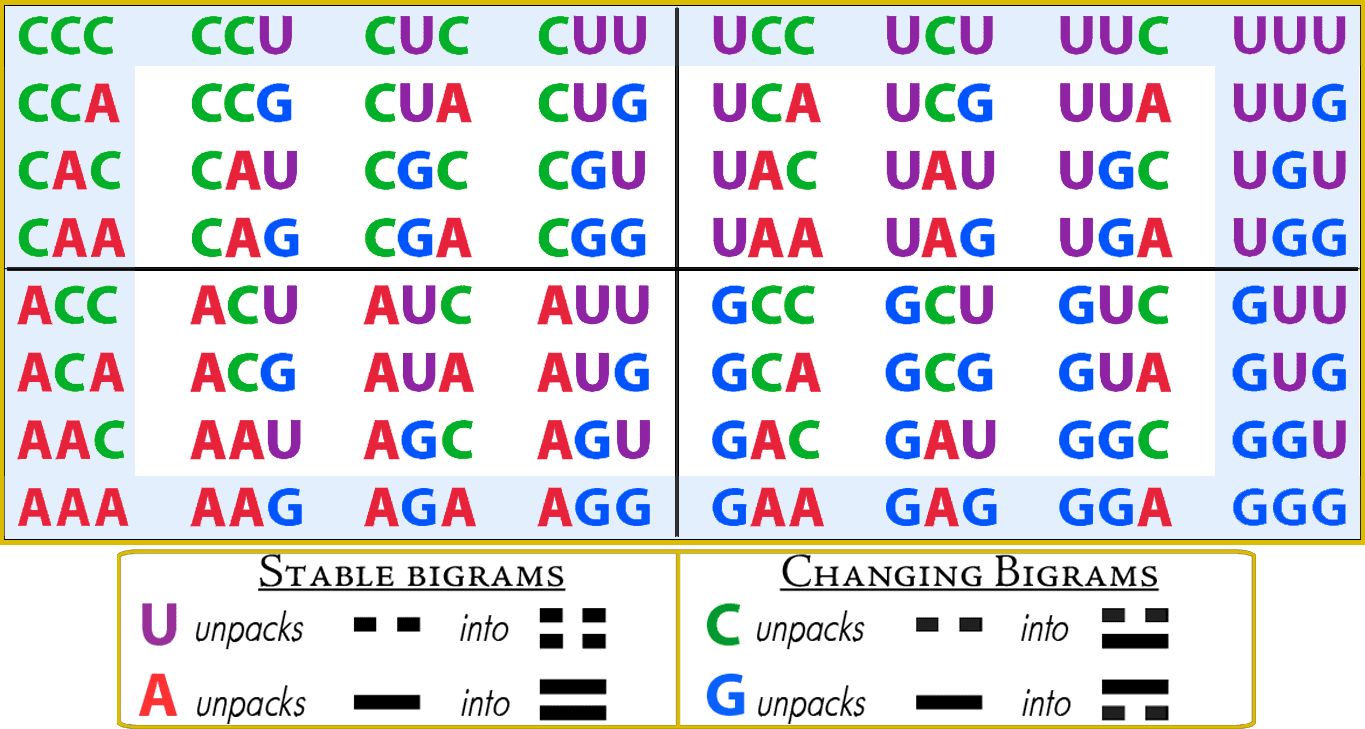 All four bigrams cross-correlate with all four RNA molecules. They will decode and unpack any RNA 3-pack to reveal its RNA task hexagram as a 6-pack of I Ching lines.

AMINO ACID TASKS REFLECT THE PHILOSOPHICAL MEANINGS OF THEIR UNPACKED RNA TASK HEXAGRAMS.
Perhaps the most amazing aspect of this cross-correlation between genetic code and I Ching is how the unpacked RNA task hexagrams reveal messages with philosophical directives that parallel their specific amino acid tasks.
How is so much possible? It happens because both systems are based on the same underlying paradigm of co-chaos dynamics.
HERE IS THE UNPACKED CHART OF all 64 RNA TASK HEXAGRAMS:
Unpacking all 64 RNA codons into their full-blown RNA message hexagrams yields this new chart, already automatically sorted into the 20 standard amino acid families that make your body.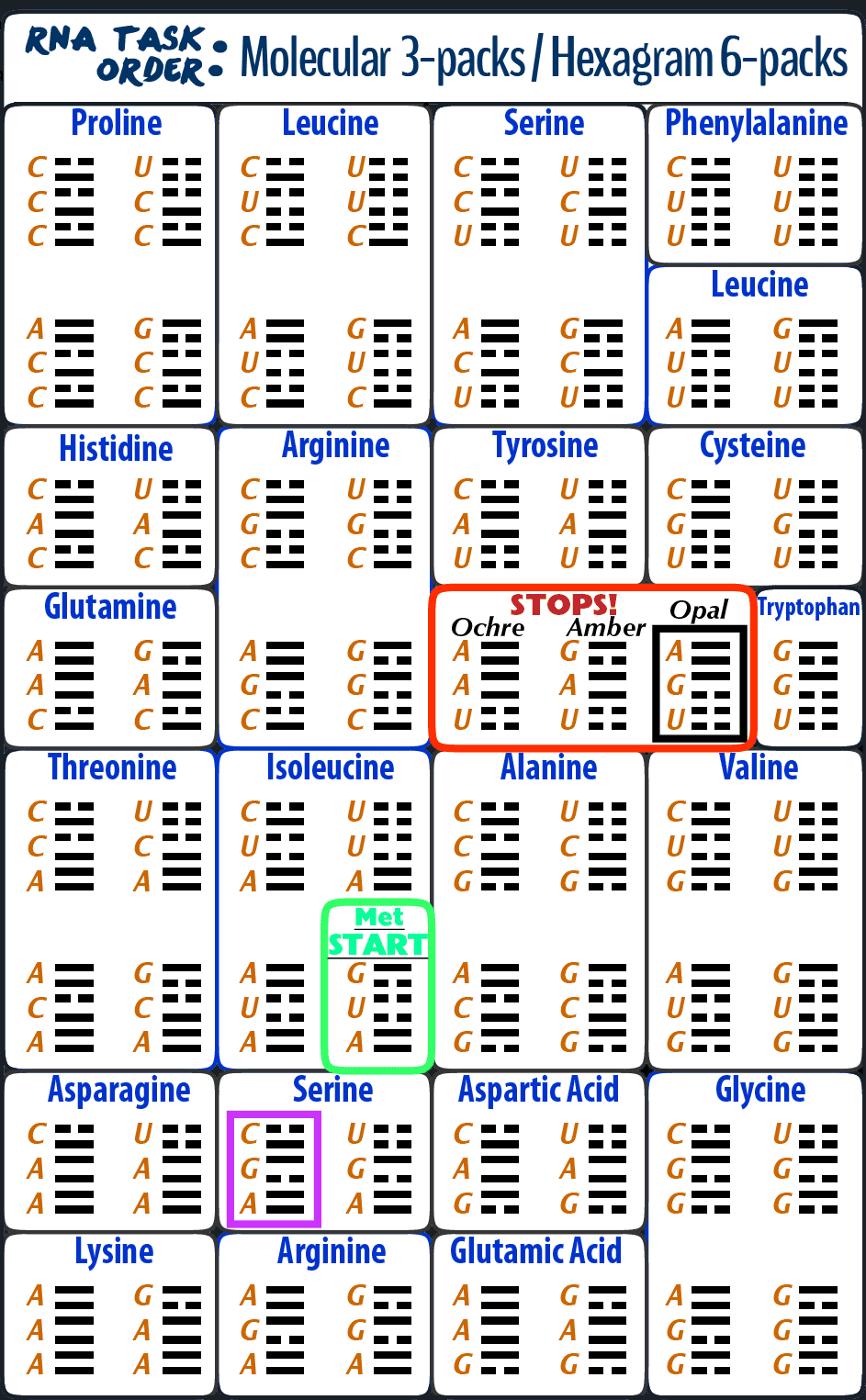 This chart is so tall and skinny that its layout translates into artful designs looking rather like Trees of one sort or another. That's appropriate, for their branches hold the family tree of every species.
HERE IS MISS STARRY OVER ROCKETRY:
In this design, Miss Starry sits over Rocketry. It has two copies of the 64 RNA codons, coded two different ways, yet its amino acids still make your body.
Since these designs are based on the RNA code that made your body, you'll notice their names are various punning plays on the Tree of Life that grows all organisms.